news around LEPTON
This version is the follower of LEPTON 1.2.3 .
The most important change in this version is the modification of the database connection.
Since PHP 5.5 " mysql_connect " is marked as "deprecated " and will no longer be available in future versions of PHP.
We then decided to use " pdo_mysql " in the future that is shipped with PHP since 5.1 as default .

Should there be no connection to the database after the update to LEPTON 1.3.0 , your MySql port may probably differ from the standard ( 3306 ) and is not properly registered in the config.php of your LEPTON installation.
Please check necessarily the port and modify accordingly.

Also there may be unusable entries with special characters or umlauts after update , in particular in the menu entries and pagenames.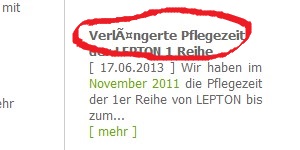 These must be manually edited.
Be sure to have a backup of your installation and database before updating.

Furthermore in this update the module wysywig_admin was recoded, the tiny_mce 3.5.10 was revised, and still a current version of jQuery is available.

The release 1.3.0 is available as

update package or complete package or mobile release.

Notice: the update packages contain only modified files and cannot be installed as initial installation.
Back